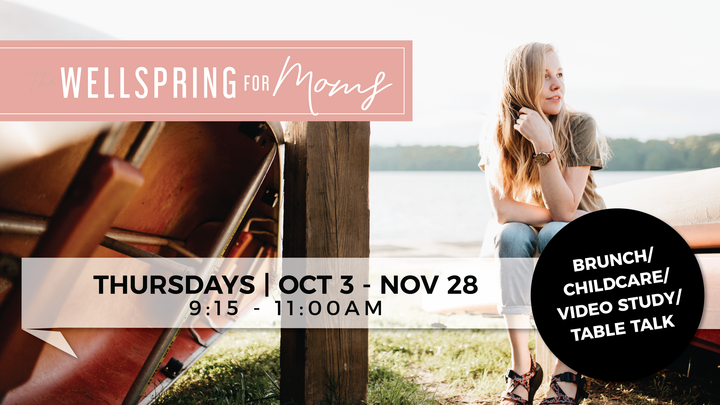 The Wellspring for Moms - The 6 Truths of Motherhood
October 3 - November 28, 2019
$40 - 50
Dates & Times
Oct 3, 2019

9:15am - 11:00am

Oct 10, 2019

9:15am - 11:00am

Oct 17, 2019

9:15am - 11:00am

Oct 24, 2019

9:15am - 11:00am

Nov 7, 2019

9:15am - 11:00am

Nov 14, 2019

9:15am - 11:00am

Nov 21, 2019

9:15am - 11:00am

Nov 28, 2019

9:15am - 11:00am

Show

all

less
Attendee Types
Standard- NO childcare

$40

With Childcare

$50
Details
Childcare is FULL. Registration without childcare will be open until September 15th.
The Six Truths of Motherhood, by Karen Stubbs
There's so much pressure on moms today and the reality is we've been told a lot of lies about what motherhood truly is. Yes, it's rewarding and deeply fulfilling, but it's not a fairy tale. However, God still has an amazing, abundant life planned for us as mothers, but it starts with us walking in the truth — His truth.
Learn to tackle some of the biggest challenges facing moms today, like:
*Discipline
*Resentment
*Identity
*Family Values
Moms, come refresh yourself with a full breakfast brunch & DVD study while your children are having fun and being taken care of in the nursery or children's program-- or while they are at school! This study is for every phase of parenting.
Registration Options Include:
$40 – No Childcare
Moms will be assigned to bring a breakfast dish one Thursday during the session.
Contact Jerai Detillieux with any questions or for financial support.
Registrations requiring childcare are on a first come, first serve basis.